Face Up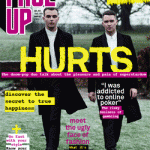 Face Up is the magazine for young people who want something deeper. Each issue concentrates in depth on one topic such as self-esteem, work, religion, death, sexuality … For more information, www.faceup.ie
The May 2014 edition was the last printed issue of Face Up magazine.
As part of its commitment to young people and youth ministry, Redemptorist Communications is delighted to announce a new face up website.
NEW FACE UP WEBSITE!
The new Face Up website (www.faceup.ie) is the Number 1 resource for youth ministers, schools and all those working with young people.
Hundreds of back articles from Face Up magazine are available to access for free and more new articles are being added every week. Search for resources under themes such as:
Advocacy
Justice & Service
Community Life
Evangelization
Catechesis
Leadership Development
Pastoral Care
Prayer & Worship
Take a look at some sample pages from recent editions: