Clonard rector Fr Noel Kehoe showing how events relating to the Clonard Novena can be viewed on the new smartphone app (Picture: Mal McCann)
(Clonard, Ireland) – Visitors to the annual Clonard Novena in west Belfast can keep up to date with the nine-day event this year through a new App.
As well as the webcam – which was introduced last year to allow the faithful to participate online – the Clonard App will allow worshippers, volunteers and friends around the world to receive updates about ceremonies and events through alerts and notifications.
Other options on the App include prayer resources, daily reflections, information on Mass and Confession times and direct access to live streaming via the webcam.
Rector of Clonard Fr Noel Kehoe described the free-to-download App as "an exciting new tool in our mission to preach plentiful redemption" and offer the possibility "to communicate Clonard's mission with a worldwide audience".
"Clonard Monastery holds a special place in people's hearts and each week we receive messages and prayer requests from all over the world," he said.
"Many people who emigrated or moved to other parts of Ireland or the UK recall their childhood memories of Clonard but miss that connection. The new app will connect them through their smart phone or tablet".
Fodhla McGrane, Clonard pastoral worker, said it was "important" for Clonard to "have a presence in the digital world".
"One can feel very anonymous and isolated online, whereas this initiative brings people into contact with a real living faith community," she said
It is expected that around 100,000 visitors will descend on Clonard next week for the Novena in honour of Our Mother of Perpetual Help.
The theme of this year's event, which will take place from June 13 to June 21, is `The joy of love: Family life today'.
Preachers include Fr Michael Cusack, from Dundalk, Fr Adrian Egan from Clonard, Fr Peter McCarthy, an Irish Redemptorist from Brazil and Fr Kevin O'Neil, a Redemptorist working in New Jersey.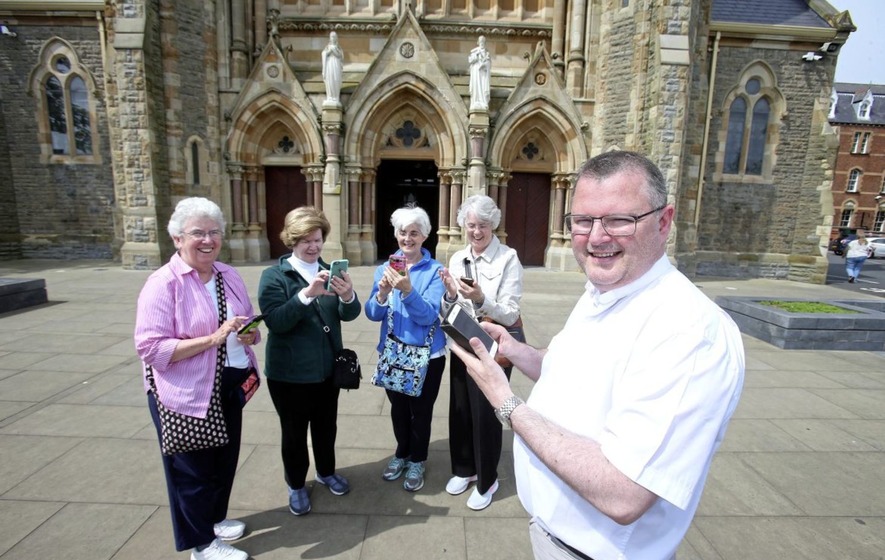 Fr Kehoe said preparations are well under way for the annual event, which is made up of 10 Novena sessions every weekday and nine sessions on Saturday and Sunday.
"There's a lot of administration behind the nine days, and we blessed to have a great team of co-workers who are the engine behind the novena.
"It's the calm before the storm, but I have great confidence in Clonard and its army of co-workers to make it an enjoyable and safe experience for everyone."
The priest also said he wanted to thank residents "for their patience during the Novena" as he was aware it caused some inconvenience.
"Thankfully, we have a very good relationship with Clonard Residents' Association and the PSNI who together work to keep traffic moving and the area safe."
Fr Kehoe urged those attending in cars to adhere to the directions of stewards and warned against leaving valuables in vehicles.
Saying the Novena was about "the sense of community that is created" Fr Kehoe said:
"During these days, people bring their faith, their petitions, their thanksgivings and in prayer and song it goes up in one voice to a God who is full of love.
"And God in return rains down blessing and grace. Here everyone is welcome. Those who believe and those who doubt. The satisfied and the broken. It is such a powerful experience of inclusion before the God who is Father and Mother to us all."