Bl. Gaspar Stanggassinger
Feast Day:
26 Sep 2014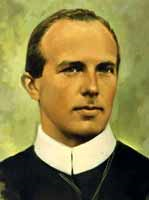 Kaspar Stanggassinger, born in 1871 in Berchtesgaden, in southern Germany was the second of 16 children. Kaspar entered the Congregation of the Most Holy Redeemer with the intention of being a missionary. However, he was appointed by his superiors to form future missionaries as vice-director of the minor seminary of Durrnberg, near Hallein. He dedicated himself completely to this responsibility.
Each week he spent 28 hours teaching in the classroom and yet was always available to the boys. On Sundays he never failed to offer his help at the churches in the neighboring villages, especially by preaching.
In 1899 the Redemptorist opened a new seminary in Gars. Father Stanggassinger was transferred there as director. He was 28 years old. He only had time to preach one retreat to the students and to participate in the opening of the school year.
On September 26 he died from peritonitis.
The Cause of his Beatification began, in 1935 and on 24 April 1988 he was proclaimed 'Blessed' by the Holy Father, John Paul II.
Read More About all Our Beatified Redemptorists
« Back to Previous Page