Feast of All Saints, 1st November
29 Oct 2014
Remembering our beloved dead throughout November
All Souls is one of the most beloved feasts of the Church year. On Saturday 1st November and all throughout the month, we remember our beloved dead, to pray that they are on their way to heaven, and to know that the whole Church prays with us.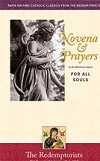 Read the Novena and a selection of prayers for all souls, (pdf) (written by St. Alphonsus Liguori, founder of the Redemptorists).  We hope these beautiful prayers will help make this All Souls Day a great blessing and comfort for you.
The names of our dead are remembered at all our masses throughout November.
We invite you to send the names of those you wish us to pray for to info@redemptorists.ie, the Redemptorists will include them in their prayers on All Souls Day and throughout the month of November.
« Back to Previous Page