Fr. Michael O'Connor C.Ss.R. Rest in Peace10th August 2023
26 Sep 2023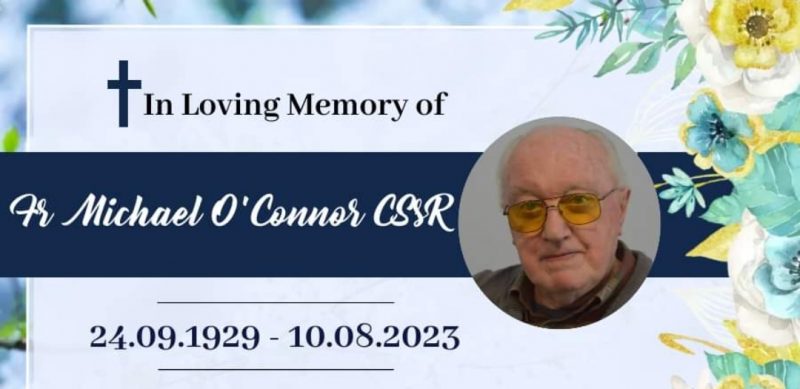 Fr. Michael O'Connor C.Ss.R. Biography
Father  Michael O'Connor was born in Tralee, County Kerry, Ireland. After his primary education in his home town, he moved as a boarder to the Juvenate of the Dublin Province, St. Clement's College, Limerick. Having been accepted as a Novice, he was professed as a Redemptorist in St. Joseph's Monastery in Dundalk in 1948. This was followed by eight years in the studendate at Cluain Mhuire, Galway.
After ordination, he was a member of the community of St. Patrick's Esker for two years [1957-1959], firstly completing his pastoral year and then as a member of the parish mission staff. In 1960 he was transferred to Clonard Monastery as assistant editor of the Redemptorist Publications team. When the publishing house was transferred to Marianella, Dublin in 1961, he moved with them and remained there until 1968.  He became editor of The Redemptorist Record in 1963. He followed the debates of the Second Vatican Council with interest and commitment and incorporated its decisions into the Record. To signal the new emphasis, the title was changed to Reality in 1966. He spearheaded this change and Reality became the most popular catholic magazine for lay people in Ireland. It played an important role in communicating the theology of Vatican 2 to the faithful.
In 1968 he was transferred to the Redemptorist Mission in the West Indies and was based in St. Kitts. He transferred to the United States the following year and spent most of the remaining active years of his ministry there teaching in a variety of Colleges and Universities including Iona in New York and Rockhurst in Kansas City. He came back occasionally to the Dublin Province to teach courses in the Kimmage Institute and The Pastoral Centre in Marianella. He returned to Mount Saint Alphonsus Limerick in 1995. He maintained some apostolic commitments in the United States, spending an extended period of time in St. Thomas More parish in Kansas City (2007-2012).
Father Michael  kept his theological and pastoral interests very much alive, though in his later years his ability to read was greatly hampered by macular degeneration. His health began to decline in early 2023 and he spent the final part of his long life in Milford Hospice, Limerick where he died very peacefully on August 10th 2023.
May his gentle soul rest in peace,
« Back to Previous Page