St Alphonsus de Liguori
Feast Day:
01 Aug 2014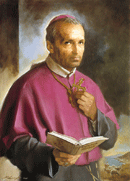 Feastday 1st August
Saint Alphonsus Liiguorour founder, was born in Marianella near Naples on September 27, 1696.  On November 9, 1732, Alphonsus founded the Congregation of the Most Holy Redeemer, popularly known as the Redemptorists, in order to follow the example of Jesus Christ announcing the Good News to the poor and the most abandoned.
He died in Pagani on August 1, 1787. He was canonized in 1839, proclaimed a Doctor of the Church in 1871 and Patron of Confessors and Moralists in 1950.
Read More About all Our Saints
« Back to Previous Page