The Official Proclamation of the Jubilee Year of Our Mother of Perpetual Help
30 Jun 2015
(Rome. 27/06/2015) The Superior General of the Redemptorists, Fr. Michael Brehl, CSsR, officially proclaimed the Jubilee year of Our Mother of Perpetual Help during a solemn ceremony held in the Church of St. Alphonsus in Rome where the original icon of Our Mother of Perpetual Help is venerated.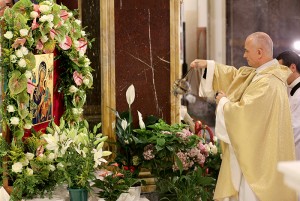 The memorable moments of this historic event started with a solemn celebration of evening prayer by the Redemptorists who gathered in the shrine at 5.40 pm. Present along with the members of the St. Alphonsus community, Rome, were visiting Major Superiors from the different parts of the world.
Fr. Michael Brehl, Superior General of the Congregation presided at the Solemn Mass which began at 6.30 pm and before the homily he formally read out the official proclamation of the Jubilee Year which begins on June 27, 2015 and ends on June 27, 2016.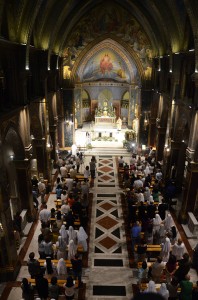 « Back to Previous Page