St Patrick's Day with the Redemptorist Centre of Music at Limerick
19 Mar 2015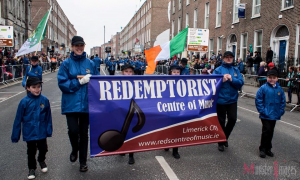 More than 40,000 people gathered in Limerick on Sunday for the International Band Parade, which saw musicians from across the world perform on the streets of the city.
Always a highlight of the St Patrick's Day festivities in Limerick, this year's event saw the University of Southern Mississippi crowned overall winners. A total of 24 marching bands featuring 1100 musicians from across Ireland, Europe and the USA performed in the 45th annual International Band Parade.
The Limerick bands taking part include CBS Pipe & Drum Band, St Mary's Fife & Drum Band, the Redemptorist Centre of Music Concert Band, the Boherbuoy Brass and Reed Band, Newcastle West & District Pipe Band and Sammy Benson's Limerick City Brass & Reed Band.
The Redemptorist Centre of Music, at Mount St. Alphonsus, Limerick, was founded almost three years ago, in the old St. Clement's College, with the purpose of providing the gift of music learning to those who might not be able to afford it. … There are now approximately 200 young people (and not so young!) learning music on all kinds of instruments, forming a variety of bands, ensembles, choirs, and orchestras.
The Redemptorists first came to Limerick in 1851 to preach a mission in St John's Cathedral. Two years later they established a temporary presence in Bank Place and moved to the present site – which they named Mount St Alphonsus – in 1854. Our wonderful church was dedicated on December 7th, 1862. St. Clement's College, a secondary school for boys, was established in 1884.
Mount St Alphonsus has been a great centre of Redemptorist and Catholic life since its foundation and members of the community have preached the Gospel the length and breadth of Ireland. Our other communities in Ireland were founded from here and Redemptorists from Mount St Alphonsus have taken the Redemptorist way of life and the Gospel message to Australia, the Philippines, Sri Lanka, India and Brazil. (C.E.)
« Back to Previous Page