Date/Time06 Jun 2017 - 14 Jun 2017
Location Esker Retreat Centre, Athenry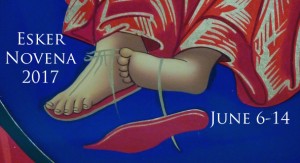 The Esker Annual Novena begins this year, 2017, on Tuesday June 6th, and concludes on Wednesday June 14th.
Times of Sessions, weekdays:  8am, 10am, 4pm, 6pm, 8pm, 10pm.
Mass Times, Sunday June 11th: 8am, 10am, 12noon, 4.30pm, 6pm, 8pm
Anointing of the Sick, at 12 noon, Saturday June 10th:
Blessing of Babies and Small Children, after all Masses on Sunday June 11th.
Preachers: The Preachers for this year are: Brendan O'Rourke C.Ss.R.,  Denis Luddy C.Ss.R., Derek Ryan C.Ss.R.